Join us at our Monthly Meetings and Events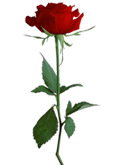 The Nashville Rose Society serves all of Middle Tennessee by sharing knowledge and information about our national flower, the rose. Through a monthly newsletter and meetings that feature regional and nationally recognized speakers, we bring you advice and instruction geared to growing roses in the specific soil and climatic conditions of this area. For all scheduled Meetings & Events, click here.
---
Getting Though the Hot Months
by Robbie Tucker, Master Rosarian and Past President of the Nashville Rose Society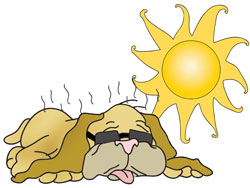 July and August bring the hottest days of the summer and we are all seeing the signs of the heat. I have put together this list of Summer Reminders to keep your garden healthy and to prepare your roses for the reward of fall temperature to come. We all know these things, but it is good to take a moment and review them.
---
2022 Tenarky District Fall Rose Show & Convention – Show Schedule and Registration Form
Hosted by the Nashville Rose Society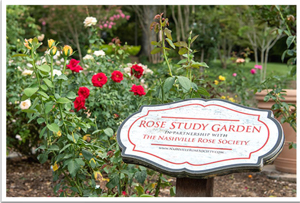 Exciting news for everyone! Mark your calendars and plan to come to the 2022 Tenarky District Fall Rose Show & Convention at Cheekwood Gardens in Nashville.
The show and convention will be held Saturday and Sunday, September 17-18. We will have horticulture, arrangements, and photography divisions. As this is our district rose show, we will have the 13 Tenarky District Challenge Horticulture Classes which includes the much sought-after Moore and McFarland trophies. Arrangements will include (for only the second time) the Sam Jones Memorial Arrangement Challenge class. This is your opportunity to enter your roses in district classes that are not available at our local shows.
Continue reading including links to the Show Schedule, Schedule of Events, and Registration Form .
---
Upcoming Meeting and Events

For all currently scheduled Meetings & Events visit the Meeting & Events page.
We are excited to announce that beginning in June, 2021, the monthly meetings of the Nashville Rose Society will be held in-person either at Cheekwood Estates and Gardens or on the Belmont University campus. See meeting announcements for details.
---
August 6, 8:30am-3:30pm – Designing with Roses
Seminar and Hands-On Workshop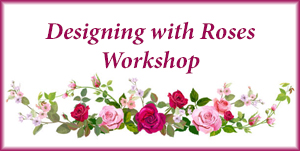 The Tenarky District of the American Rose Society is excited to host a seminar and hands-on workshop to learn how to make arrangements with roses. The workshop will be held in the Potter Room at Cheekwood Estate & Gardens on Saturday, August 6, from 8:30am till 3:30pm.
The workshop will be lead by Connie Baird from Tennessee, Sandy Dixon from Florida, and Joanne Maxheimer from Georgia.
The cost of the workshop is $25, which includes supplies and lunch. Please bring 2 containers as well as roses (if you have them), foliage and/or line material you might have available to share with the group.
Please complete the registration form and send with your $25 fee registration fee to:
Paula Williams
2650 Shumate Road
Ekron KY 40117-7831
---
August 7, 2-4:30 – Linda Jansing, "What are the Judges Looking For?"
If you have entered a rose show, you may have wondered, "what are the judges looking for?" when they give out the blue, red and yellow ribbons.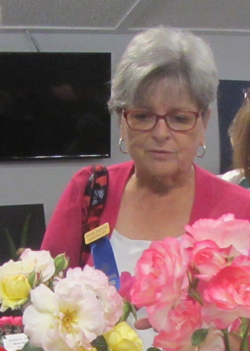 On Sunday, August 7, our speaker will be Linda Jansing, American Rose Society Horticultural Judge, who will take the mystery out of how roses are judged. This topic will be particularly helpful for those who plan to enter roses in the upcoming Nashville Rose Society Fall Grand Prix or the Tenarky District Rose Show.
Linda Jansing has been a member of the American Rose Society, Tenarky District, and the Louisville Rose Society since 1993. She is a Master Rosarian and has been the Horticulture Judge Chair and Photography Chair for the Tenarky District since 2016. She has been president and vice president of the Louisville Rose Society.
In the past 30 years, Linda has grown all types of roses but mainly hybrid teas. She has also grown miniatures, minifloras, shrubs, David Austins…and the list goes on.
Linda told us, "The first time I exhibited a hybrid tea, "Peace", I won Novice Queen and I was hooked!"
She started clerking at rose shows to learn more and a few years later, became a Horticulture Judge mainly to become a better exhibitor, but she has loved judging local, district and national rose shows for the past 18 years.
Bring a few roses if you have them on August 7th. We will talk about what judges are looking for when you exhibit your beautiful roses at the Tenarky District Show on September 17th.
The meeting will be held in the Potter Room at Cheekwood Estate & Gardens. Admission to Cheekwood is not required – let the gate attendant know that you are attending the NRS Meeting in the Potter Room.
---