"Investing in the present to preserve the past for the future."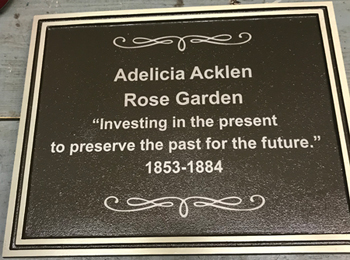 Adelicia and Joseph Acklen built the Belmont Mansion completing construction in 1853. Adelicia lived there from 1853-1884. On the grounds of the Mansion were an art gallery, gazebos (still standing today), a bowling alley, a bear house, gardens, and a zoo. Adelicia Acklen opened the estate to the citizens of Nashville to enjoy the zoo, as no public zoos existed at the time. As part of the gardens, she had 800-900 roses planted in front of the old water tower that is still on the University Campus.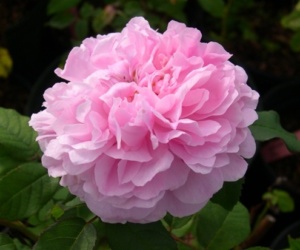 The type of roses that would have been grown during that time are what we now call old garden roses (OGRs). The American Rose Society defines old garden roses as those types that existed prior to 1867, the year of introduction of the very first hybrid tea rose. Within this generic definition, a number of popular subdivisions exist based on natural historical developments and characteristics. Several classes have been planted in the Garden, including China, Hybrid Perpetual, Moss, Noisette, and Tea. Adelicia was particularly fond of Moss roses. The beauty of the old garden roses often lies in the heavy fragrance they can impart to the garden.
Ron Daniels, co-president of the Nashville Rose Society, worked with Judy Fisher, wife of Bob Fisher, president of Belmont, and rosarian in her own right, to develop the concept and design the garden. Spring, 2019, the Belmont landscape team built two raised beds in front of the old water tower and planted twenty old garden roses.
The roses planted in the garden are (see photos below):
Henri Martin – Moss 1862
Luis Philippe – China 1834
Ducher – China 1869
Green Rose – China 1856
Petrie des Jarvis – Tea 1874
Paul Neyron – Hybrid Perpetual 1842
Mutablis – China 1894
Baronne Prevost – Hybrid Perpetual 1841
Old Blush – China 1751
Blush – Noisette 1817
Marchesa Boccella – Hybrid Perpetual 1842
Cecile Brunner – Polyantha 1880
Rouletii – China 1815
Marie Van Houtte – Tea 1871
Le Vesue – China 1825
American Beauty – Hybrid Perpetual 1875
As of May, 2021, the garden is flourishing!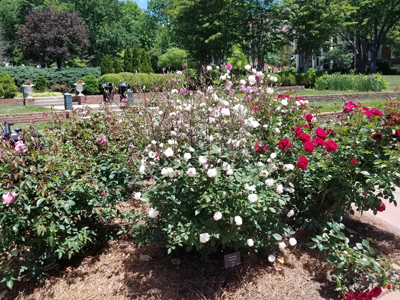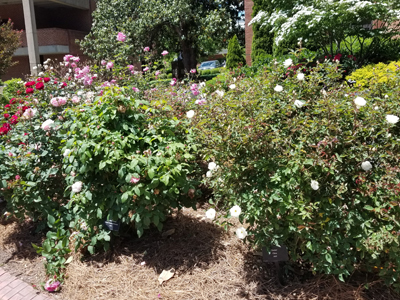 The garden is located at Belmont University, 1900 Belmont Blvd. Nashville, TN 37212.
About Adelicia Acklen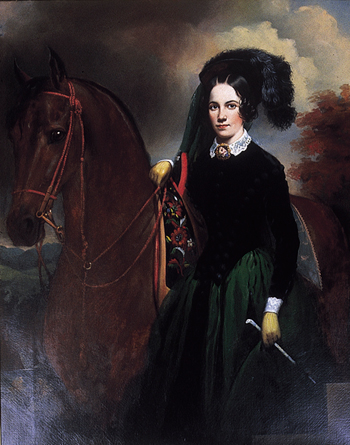 Adelicia Hayes Franklin Acklen Cheatham (March 15, 1817 – May 4, 1887), best known as Adelicia Acklen, became the wealthiest woman in Tennessee and a plantation owner in her own right after the 1846 death of her first husband, Isaac Franklin.
Adelicia Hayes was born on March 15, 1817, in Nashville, Tennessee. In 1839, at age 22, Adelicia married Isaac Franklin (1789–1846), a 50-year-old slave trader and planter. He got fully out of slave trading by 1841, and concentrated on his plantations, mostly in Louisiana.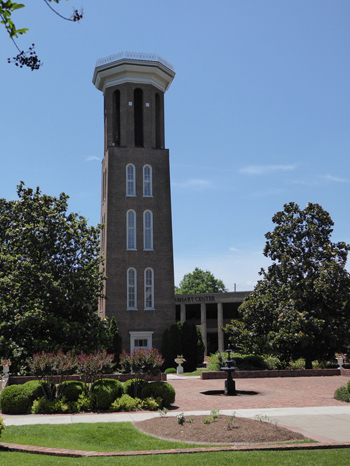 In 1846, Franklin died, and Adelicia Franklin inherited the Fairvue Plantation in Gallatin, Tennessee, 8,700 acres in four cotton plantations in Louisiana, more than 50,000 acres of undeveloped land in Texas, stocks and bonds, and 750 slaves, who had high value in the South. The widow Franklin became the wealthiest woman in Tennessee.
In 1849, the widow Franklin married a second time, to Joseph Alexander Smith Acklen (1816–1863). Together, they built the Belmont Mansion outside Nashville for use as a summer estate, complete with gardens and a zoo.  The water tower, which still stands, provided irrigation for the gardens and supplied water for the fountains. In front of the water tower stood a two-hundred-foot long greenhouse and a conservatory, including the rose garden. 
Joseph A. S. Acklen died in 1863. Later, Adelicia Acklen married Dr. William Archer Cheatham (1820–1900), a physician and head of the State Insane Asylum. However, she soon grew dissatisfied with this marriage and moved to Washington, DC, where she lived at 1776 Massachusetts Avenue.
In 1887, Adelicia sold the Belmont Mansion. It was later used as a girls academy and then for Ward–Belmont College (which eventually was developed as Belmont University).
Adelicia died on a shopping trip in New York City on May 4, 1887, at the age of seventy. She was buried at the Mount Olivet Cemetery in Nashville, Tennessee.
Source for About Adelicia: https://en.wikipedia.org/wiki/Adelicia_Acklen
Photo Gallery of Roses in the Adelicia Acklen Rose Garden
Click on photo to enlarge.

All photos courtesy of Antique Rose Emporium and Petals from the Past.