by Diane Coleman, NRS Consulting Rosarian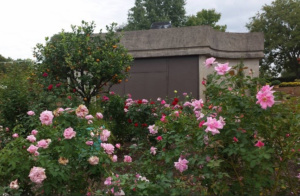 The Rose Study Garden was established at the Cheekwood Estates and Gardens in 2015. The Nashville Rose Society and Cheekwood jointly developed the Garden primarily as a teaching tool for new rosarians, whether they are new to the Rose Society, Cheekwood members or visitors.
A variety of types of roses are planted in the garden. Because it is a hands-on teaching garden, roses are removed and new varieties added back to teach how to plant a rose. Everything a new rosarian needs to know about taking care of roses in their home garden is taught by members of the Nashville Rose Society during monthly meetings or workshops. In the spring, the roses are uncovered from their winter mulch, pruned and fed. During the growing season, they are deadheaded, fed, and watered. And in the late fall/winter they are mulched to protect them from the cold.
The list of roses in the garden change – the table below shows the roses that are currently in the Rose Study Garden.
Roses in the Rose Study Garden as of August 17, 2020
Name of Rose
(Cultivar)
Species
ARS Rating
Color
Rose Bed
(looking from
visitor center)
Becka Anne
miniature
7.7
yellow blend
L

Belinda's Dream
shrub
8.4
medium pink
L & R
Burgundy Iceberg
floribunda
7.6
mauve
R
containers
Caldwell Pink
shrub
Found Rose
pink blend
L
Carefree Beauty
shrub
8.7
medium pink
R
Charlotte
shrub
8.0
light yellow
L
Crescendo
hybrid tea
7.8
pink blend
R
Crimson Bouquet
grandiflora
7.8
dark red
L
Double Delight
hybrid tea
8.3
red blend
R
Double Red Knockout
shrub
8.1
medium red
L
Dream Come True
grandiflora
7.5
yellow blend
R
Duchesse de Brabant (1857)
tea
8.5
light pink
R
Fire Opal
floribunda
7.7
white
R
Firefighter
hybrid tea
7.8
dark red
R
Gemini
hybrid tea
8.4
pink blend
R
Gold Medal
grandiflora
8.3
medium yellow
R
Gourmet Popcorn
miniature
8.5
white
L
Graham Thomas
shrub
8.2
deep yellow
L
Green Rose
(before 1856)
china
8.0
green
L
In the Mood
hybrid tea
7.6
medium red
R
Lemon Fizz
shrub
Not Yet Rated
medium yellow
R
Louis Philippe (1834)
china
8.9
red blend
L
Lynn Anderson
hybrid tea
7.6
pink blend
R
Marie Daly
polyantha
7.9
medium pink
L
Marie Pavie (1888)
polyantha
8.7
white
L & R
Marilyn Monroe
hybrid tea
8.0
apricot blend
R
Minnie Pearl
miniature
8.6
pink blend
L
Miracle on the Hudson
shrub
Not Yet Rated
medium red
L
Miranda Lambert
hybrid tea
7.4
deep pink
R
Mister Lincoln
hybrid tea
8.3
dark red
R
Moonstone
hybrid tea
8.3
white
R
Mrs Dudley Cross (1908)
tea
8.5
yellow blend
R
Neil Diamond
hybrid tea
7.6
pink blend
R
New Dawn
large flowered climber
8.4
light pink
Bldg
Old Blush
climber
8.4
medium pink
Bldg
Perle d'Or (1875)
polyantha
8.5
yellow blend
R
Quietness
shrub
8.3
light pink
L & R
Rainbow's End
miniature
8.5
yellow blend
L
Reve d'Or (1869)
noisette
9.2
medium yellow
L
Ring of Fire
hybrid tea
7.9
orange blend
R
Spice
china
Found Rose
blush pink
R
Sunstruck
hybrid tea
7.9
apricot blend
R
Take It Easy
shrub
8.0
red blend
L
Tennessee
miniature
7.8
orange pink
L
The Fairy
polyantha
8.7
light pink
L
Therese Bugnet
hybrid rugosa
8.3
medium pink
R
Touch of Class
hybrid tea
8.5
orange pink
R
Veteran's Honor
hybrid tea
8.4
dark red
R
You're the One
miniature
7.8
medium pink
L
---