Located at Belmont University, 1900 Belmont Blvd. Nashville, TN 37212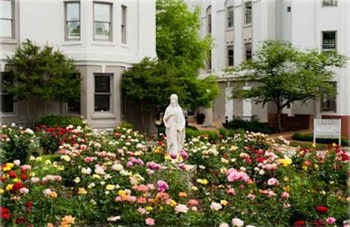 The Belmont Rose Garden at Belmont University is part of the historic gardens surrounding the mansion. The garden was restored in 2005-2006 under the guidance of Bob Fisher, President of Belmont University, Judy Fisher, and Louis Mishu of the Nashville Rose Society. The garden features 200 named roses.

The Belmont Mansion was built in 1853 as a summer home for Joseph and Adelicia Acklen in Nashville, Tennessee. The entrance to the 177 acre estate featured gardens decorated with marble statues and cast iron gazebos. Also on the grounds were greenhouses, a water tower, bowling alley, zoo, art gallery and dear park.
Click here for information on tours at Belmont, including the Gardens and Grounds Tour.