Located at Woodlawn-Roesch-Patton Funeral Home & Memorial Park, 660 Thompson Lane, Nashville, TN 37204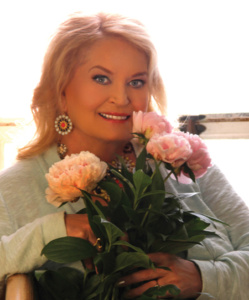 The Lynn Anderson Rose Garden was dedicated on June 15, 2018, in honor of country music star Lynn Anderson at her final resting place at Woodlawn-Roesch-Patton Funeral Home & Memorial Park. The Rose Garden memorializes Lynn with 114 Lynn Anderson hybrid tea roses created in honor of her and her 1970 classic hit song (I Never Promised You a) Rose Garden".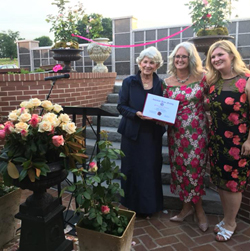 During this dedication, the American Rose Society's Marilyn Wellan presented the "Presidential Citation" to Lynn's daughters Lisa Sutton and Melissa Hempel, which was in recognition of her love and support of the rose and the American Rose Society.
Click here to see a YouTube video of the garden dedication.
The Lynn Anderson Rose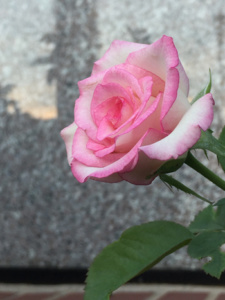 When rose breeder/hybridizer Joseph Winchel approached Lynn about creating a rose in her honor, Lynn was flattered. It made perfect sense that she have a rose named after her due to her signature song, "Rose Garden."
Lynn personally picked her rose from a series of slides presented as options. She was immediately struck by a cream rose with raspberry tips. The chief hybridizer at Weeks Roses was amused at this choice as he described the leaf structure as having a habit of growing huge leaves on long stems creating a "formal gown for this country lady."
Since the rose was hybridized in the mid-90's, it has won many awards. It was crowned "Queen of Show" by the American Rose Society, which is the highest honor bestowed upon any rose. The Lynn Anderson rose is the mother plant of many of hybridizer David Clemons award winning Thoroughbred Roses. Lynn Anderson the Rose was also the mother plant used to create Foolish Pleasure. Foolish Pleasure was then the pollen parent (father) of Whirlaway, the #1 exhibition miniflora in 2012 and every year since, including 2018.
The Rose Garden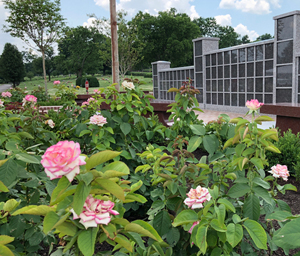 The roses and the garden have been a years-long project for Anderson's daughter, Lisa Sutton. Lisa is a member of the Nashville Rose Society.
A YouTube video of the garden, from construction to dedication, can be seen here.
The Rose Garden is open to the public everyday from dawn till dusk. Click here for directions. After entering the Memorial Park, the garden is located at the left of the first four-way stop.
To learn more about the Lynn Anderson Rose and the Rose Garden, visit facebook.com/pg/LynnAndersonRose.