A Brief Overview of Rose Care for the Fall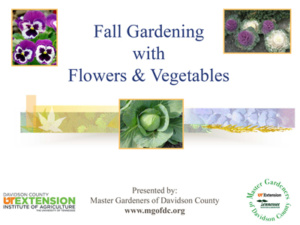 Fall is here and with it some new opportunities for colors in our gardens. On Sunday, October 4, 2020, Davidson County Master Gardener Joan Clayton-Davis shared some ideas on flowers and vegetables that will add spectacular color. Her suggestions include chrysanthums, pansies, asters golden rod, and ornamental cabbage and kale, all of which are fine companion plants for roses.
See Joan's full presentation here.
---
After the end of August, continue watering but stop all fertilization. The plant needs a gradual entrance into dormancy – any new growth might be killed by early frost. This would be an added stress for even a healthy plant going into winter.
One of the most important jobs in the rose garden is to get a soil test, and fall is a great time to do it. Any corrections that need to be made will have all winter to work.