with Traditional Values, Step-By-Step Instructions and Heartwarming Stories
FOR IMMEDIATE RELEASE
(April 15, 2023) – Rose Therapy is the first book by Ron Daniels – Master Rosarian with the American Rose Society, Master Gardener for Sumner County, Tennessee, and President of the Nashville Rose Society.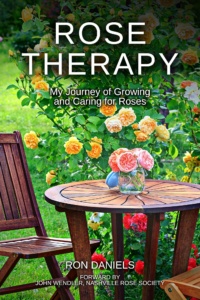 With the heart of a teacher, traditional Southern values and storytelling, Ron reveals the "bigger picture" behind growing and caring for roses: their power to bring different people together, and communicate profound emotional depth without saying a word. Ron overlays thorough, step-by-step instructions any beginner can follow, with down-to-earth stories and a brief journey into the history of roses.
Rose Therapy meets the expectation of readers on a visual subject; it's stocked with beautiful color photos of the finest roses Ron has raised, or mentored others through cultivating. Throughout the book, Ron brings an encouraging, enthusiastic voice to all rosarians – from absolute beginners to fellow masters.
For rose enthusiasts and the people who struggle to understand them, Rose Therapy will change your thinking on the power of gardening to infuse a human life with hope, joy and meaning – while making steady progress toward the aesthetic, life-giving beauty of your own rose garden.
Readers can purchase copies at RoseTherapyBook.com, or on Amazon, Barnes & Noble and other sites where books are sold.
Contact:
Paul Edwards, Emissary Publishing
Email: pe@thepaulsedwards.com