by Mary Ann Hext, Master Rosarian
Reprinted with Permission from the Bowling Green Rose Society newsletter, Rosebuds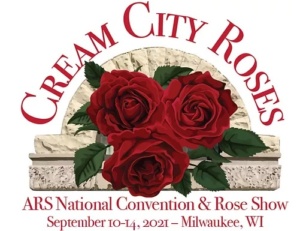 "Cream City Roses" was the theme of this year's ARS National Convention in Milwaukee September 9-14. My husband, Gary, and I drove part of the way on Thursday, so we could arrive in time on Friday for the tour available to attendees of the Pfister Hotel built in 1893. We chose to stay in the original part of the hotel which houses the largest Victorian art collection of any hotel in the world rather than the 23-story tower added in the 1960s. Our room was a suite looking out to other historic buildings and one floor below the rose show and meeting rooms which was very convenient. Marty Reich, Nancy Jones, and Lori Emery met us in Milwaukee at the show.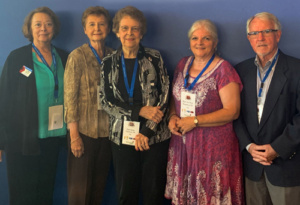 Friday night we attended the welcome reception and program getting to see old rose friends from across the country and meeting new rosarians. Our room had a nice area with a bar and sink where I could work on my entries for the rose show and then carry upstairs to the exhibition area which opened at midnight for entries.
While the show was being judged, we had time to visit with Gary's nephew, who gave us a tour of Milwaukee, before returning to see the show.
When we got back, I was surprised to find that three of my four arrangements received ribbons, two were best of class receiving rosettes, and two ARS certificates. Marty Reich received five ribbons for four minifloras and one miniature rose,all single blooms, which traveled to the Show by air, without water in a plastic container in her checked luggage!
Mary Ann's Winning Arrangements!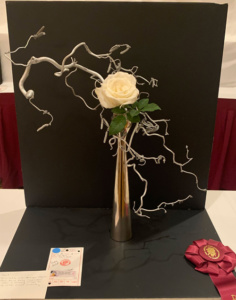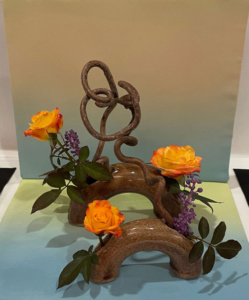 The rose show was beautiful, and I was pleased with my entries. The biggest surprise came that evening at the awards program when I learned that three leftover roses (from the 15 I brought to the show) I had entered at the last minutes in a picture frame had won a certificate from one of the 11 World Federation of Roses classes which were included for the first time in a rose show in our country.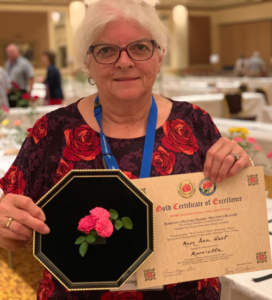 On Sunday, there were several seminars with my favorite getting to meet and hear in person, some of our newest hybridizers: Dave Bang, Steven Roussell, Steve Singer, and Jim Sproul. That afternoon I opted to attend the arrangement workshop rather than the garden tours. It was fun, and we studied large and small table designs and then each person made an arrangement for the banquet tables for the installation dinner on Monday night. In the evening, we traveled by bus a short distance to Discovery World, a museum located on the lakefront, for Bob Martin's celebration dinner. We enjoyed catching up with other Tenarky members: Lori Emery, Nancy Jones, and Marty Reich, as well as friends from other places.
On Monday, Gary and I attended more seminars from excellent speakers including ARS past-presidents, Bob Martin and Jeff Wyckoff. Following lunch, we experienced the best part of the trip — a visit to the Will Radler's Rosarium where he actually lives which was absolutely amazing! We viewed the original 'Knock Out' and its parents, saw more than 1,000 roses that are being tested in a beautifully landscaped two-acre garden with unusual trees, perennials, and shrubs, plus a reconstructed prairie. The grounds featured gazebos, arbors, a large stone fireplace, unique statutes and glass towers, a shed with a look-out on the third floor tied together with a meandering stream, waterfalls, and ponds of fish that he also breeds. Another unexpected highlight was that we sat directly across the aisle from Dave Bang and his wife riding the bus to the Radler Rosarium and had a very interesting conversation with them on several topics including his rose hybridization successes.
Monday evening, we attended the installation banquet of our new ARS President, Diane Sommers, and also our Tenarky District Director, Lori Emery. Several national awards were given which you will be reading about in the next ARS magazine and newsletter.

Tuesday morning, we attended the ARS member breakfast and meeting, said farewell to many rose friends, and headed home tired but with lots of good memories.
---