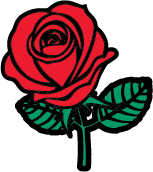 If you are planting new roses this spring, whether to expand your garden or replace your least favorite rose bushes, the 2020 Tanarky District Roses in Review Report is an excellent source of information for roses that grow well in our district (Tennessee / Arkansas / Kentucky).

Each year members of the American Rose Society evaluate new rose introductions and submit a report to the ARS. The results are compiled and reported in the ARS Roses in Review. The results are also used to determine ratings of new roses in the ARS Handbook for Selecting Roses.
The Tenarky District 2020 Roses in Review Summary Report was compiled by Jeff Garrett, Tenarky District Roses in Review Chairman, from the reports submitted by Tenarky members.
Thanks, Jeff, for compiling this.
Click here for the Tenarky report.
---