Article from American Rose
The Magazine of the American Rose Society
July/August 2017
Written by Cindy Worch, Past President
Photos by Katelyn Daniels
The Nashville Rose Society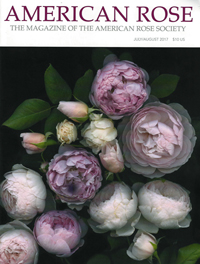 The Nashville Rose Society serves all of Middle Tennessee by sharing knowledge and information about our national flower, the rose. Through a monthly newsletter and meetings that feature regional and nationally recognized speakers, we bring you advice and instruction geared to growing roses in the specific soil and climatic conditions of this area.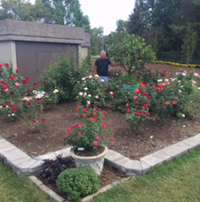 Monthly meetings, unless otherwise noted, are held at Cheekwood Botanic Hall/Visitor Services Building at the Cheekwood Botanical Garden and Museum of Art on the first Sunday of the month, usually from 2:00 – 4:00 pm.
We welcome all persons interested in growing roses to join us. Our membership ranges from 11 to 94 years of age. We are active in the community participating in several events throughout the year. The Nashville Lawn & Garden Show, pruning demonstrations, rose shows and garden tours of members gardens.
Rose Culture
Living in the Southeastern part of the country Nashville is in the USDA plant hardiness zone 6b-7a. Our weather is like a rollercoaster. Most all of us suffer from black spot and powdery mildew. Japanese beetles, thrips, aphids and spider mites enjoy dining on our precious roses. We have members that are on a regular spray schedule, some only spray with organics and some don't spray at all but take a more sustainable garden approach.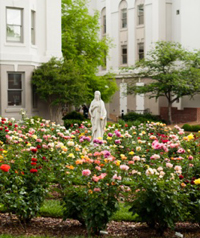 Middle Tennessee's soil is made up mostly of clay and limestone rock. So it is imperative that we amend our soil with compost and check the pH regularly.
July and August are our hottest months.
This is what our President Ron Daniels does to help his roses during the hottest months of the year.
"Of course watering roses at this time of year is very important. Here's what I like to do the next 30-40 days: Fertilize your roses with liquid fertilizer every 10 days. I like EasyFeed by Beaty Fertilizer. 1 tablespoon per gal of water per plant. At this time you can check pH and add lime if needed. I use Limestone F liquid 3 oz per gal of water. You can mix this with your liquid fertilizer and apply at the same time. Pour this mixture around the drip edge of plant. If you have garden lime, you can mix it in your liquid fertilizer. Mix well before putting around your bushes. This really helps get thru the very hot temps coming up. One good tip is to water before you apply your fertilizer and lime. This will keep your mixture from running away from plant and will soak in better. Also you can use other liquid fertilizer like Miracle-Gro, etc. This process gets fertilizer into plant quick. Then about 40 days or so before our show you can do your regular fertilizer program. I will put 2-3 cups of Mills Mix,2-3 tablespoons of Epsom salts and 1/2 cup BloomKote , and of course check pH and apply lime as needed. Also keep up your spray program, deadhead and mulch. Hope this helps you ! Remember this is how I do it, other CRs and members have their own way of caring for their roses during the hottest time of the year.
Gardens
Some of our members have been instrumental in developing, installing and overseeing three different rose gardens around the city of Nashville.
The Belmont Rose Garden was restored in 2006 and boasts 200 named rose varieties. Located at Belmont University 1900 Belmont Blvd. Nashville, TN 37212.
The Music City Rose Garden located between 4th and 5th Aves in front of the Country Music Hall of Fame. Our President Ron Daniels helped in the first garden which was located next to the Schermerhorn Symphony and then he also helped in the relocation of the garden to it's current address last year. All of the roses in the garden are named for Country music performers or country songs. Many hybridized by the late Whit Wells.
Thirdly and may I add the pride of the Nashville Rose Society is the Rose Study Garden at Cheekwood Botanical Gardens. In February 2015 plans were laid to establish a rose garden at Cheekwood. After 7 months of planning and hard work we planted our first 42 roses. Fifteen more were added in the spring of 2016. Our main objective is to teach visitors and new members how to care for roses. From preparing the soil, planting, fertilizing and pruning to sharing their roses.
A few of the roses planted in the Study Garden include 'Crescendo' (HT), 'Veteran's Honor' (HT), 'New Dawn' (Cl), 'Miracle on the Hudson' (S). Approximately 60 different roses, nine categories in all. For more information on the Study Garden and a complete listing of roses visit our website at www.nashvillerosesociety.org under Rose Study Garden.
Published in the July/August 2017 edition of American Rose. Reprinted with permission from the American Rose Society.