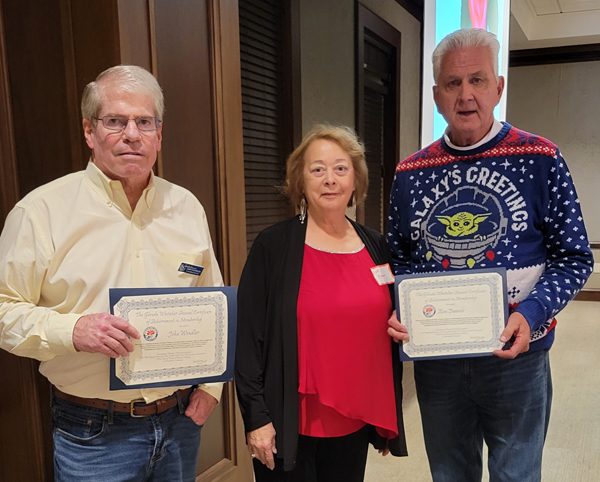 The Glenda Whitaker Award was presented to Co-Presidents Ron Daniels and John Wendler on December 5, 2021, at the Nashville Rose Society's (NRS) Christmas party by Lori Emery, District Director – Tenarky.
The American Rose Society (ARS) award was created to pay tribute to Nashville's own Glenda Whitaker. She received numerous accolades over the years; but may be best known for her amazing gift to recruit and encourage new members to the NRS and ARS.
Ron and John have worked diligently to stimulate growth in the society. NRS has flourished under their leadership and increased membership during the pandemic. They have been innovative in the face of a national health crisis; being one of the first to use zoom meetings for the monthly meetings and speakers.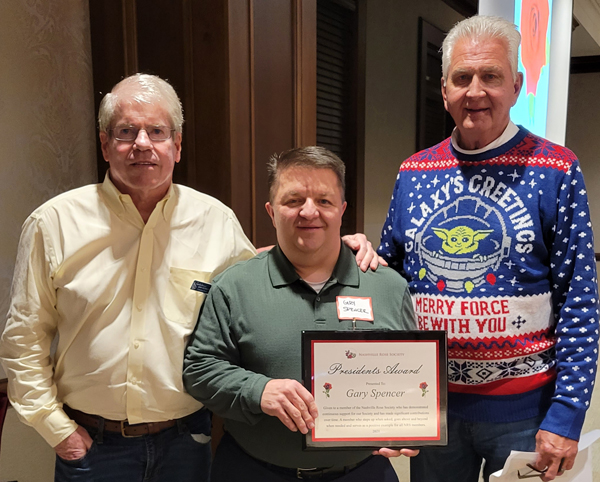 The Nashville Rose Society Executive Committee created a new NRS service award at the November, 2021, committee meeting. The award will be called the "NRS President's Award" and will honor any member who has demonstrated continuous support for our Society and has made significant contributions over time. A member who steps up when asked, goes above and beyond when needed and serves as a positive example for all NRS members.
The first award was presented to Gary Spencer, NRS Treasurer. In addition to being NRS Treasurer for more than 10 years, Gary has served in many areas – chairing Vendor Events, leading the set-up for Rose Shows, and purchasing supplies for the Roses Study Garden and other projects, as well as helping other members with a need. Gary is always supportive of NRS and our leaders.
Congratulations to John, Ron and Gary. The members of the Nashville Rose Society appreciate everything you do.