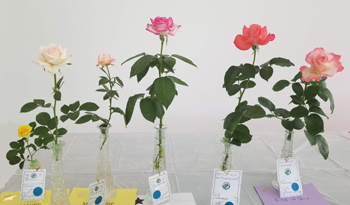 The 2022 Fall Grand Prix Rose Show was held during the Nashville Rose Society regularly scheduled monthly meeting on Sunday, September 11, 2022, in the Potter Room at Cheekwood Gardens & Estate. The purpose of the Grand Prix is to give members a chance to learn about and practice exhibiting roses.
And the winners are!
Large Roses
Queen – Touch of Class, shown by Cheryl Maler, grown by John Wendler
King – Crescendo, shown by Linda Bowen
Princess – Lynn Anderson, shown by Eric Liden
Miniature Roses
Queen – Touch of Heaven, shown by Gene Meyer
King – Aracanum, shown by Ying Kenney
Princess – Bob Martin, shown by Lanni Webb
Please note: The NRS Grand Prix rose shows are not sanctioned by the American Rose Society .
For more information on how roses are judged, visit the American Rose Society website, rose.org, and study the "Guidelines and Rules for Judging Roses".
---