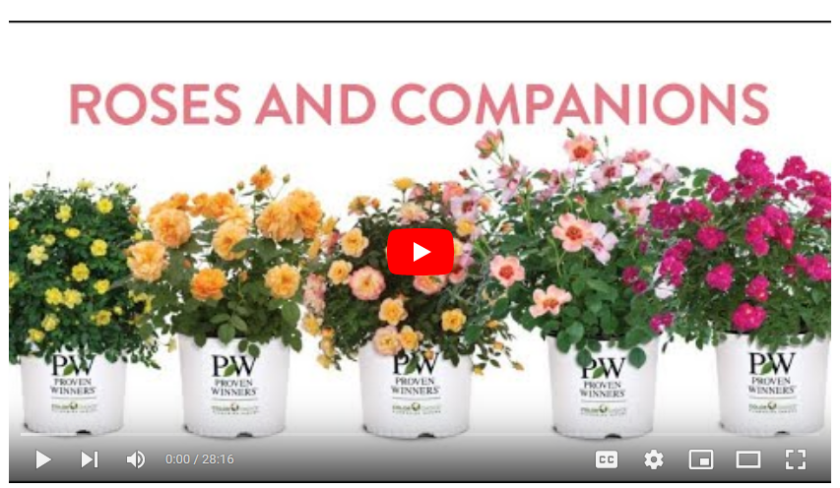 Learn all about roses in this fun and informative YouTube video from Proven Winners. Natalie Carmolli with Proven Winners® ColorChoice® Flowering Shrubs, discusses the history of roses, how to grow them, what varieties of roses they offer and what plants make great companions for planting with them. In addition, this 30 minute video shows some of the automation that Proven Winners uses in its greenhouses.
Three of Proven Winners lines of roses are:
Oso Easy Roses
Oso Easy roses are indeed easy to grow, and they offer the broadest color range of any landscape rose series plus surprising hardiness, with some varieties that thrive in USDA zone 3. Dark green foliage shows exceptional disease resistance, and tidy habits make them ideally suited to any sunny landscape.
Reminiscent Roses
This series of roses combines the lush, full, fragrant flowers you remember with modern day disease resistance and continuous blooming. Developed in Serbia, trialed and tested in Michigan, these roses bloom all summer without deadheading. They resist common rose diseases, like black spot and powdery mildew, and they are hardy and heat tolerant – they thrive in USDA zones 4-9.
Rise Up Roses
Cover your world in flowers with Rise Up climbing roses. These roses are super versatile: they can be grown on a post, trellis, railing, or fence, or in a garden bed. They bloom all summer without deadheading and resist common rose diseases, like black spot and powdery mildew.
As our friend Austin from Bates Nursery said at the July 2023 NRS monthly meeting, "Just look for the white container."
---