Article from American Rose The Magazine of the American Rose Society July/August 2017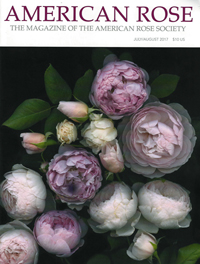 This award was established in honor of Glenda Whitaker; an ARS Member and Leader whose excellent example and efforts on behalf of the society and its members has been as inspiration to all who have worked on behalf of the society in the area of membership; and to recognize those who have made outstanding and unique contributions to the Society in its efforts to grow in members.
It is given for outstanding achievement by an individual, team, society, district or business which has been a helpful partner with the American Rose Society. Nominees must be ARS members. Members of the ARS Membership Committee are not eligible.
This year's honorees have dedicated a major portion of their lives to the Rose and to the
ARS. They have worked to ensure the future of the rose by increasing membership, both locally and nationally through their leadership in the Nashville Rose Society and the Tenarky District (Tennessee, Arkansas and Kentucky).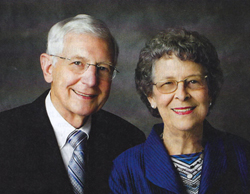 Sam served as President of the Nashville Rose Society and as ARS Tenarky District Director. He was past Chairman of the ARS Prizes and Awards Committee.
Sam served several years as editor of the Nashville Rose Society's monthly newsletter, The Nashville Rose Leaf, which received ARS Gold and Silver Bulletin Awards during his tenure. Their many articles about growing and enjoying roses have appeared in ARS national publications and district and local society bulletins and they were Co-Editors of the 2009 American Rose Annual.
Sam was an ARS Accredited Horticulture Judge and Arrangements Judge. Both he and Nancy served as ARS Consulting Rosarians and grew more than 200 roses of all types.
Sam and Nancy were among a 12-member delegation representing the American Rose Society in China in 2013, touring and consulting with major Chinese rose garden directors and research institutions. In May of 2016 they once again joined the ARS Delegation to China and attended the 2016 Regional Convention of the World Federation of Rose Societies in Beijing.
Sam ran for ARS Vice President in 2015, with Nancy supporting his efforts and making her own contribution to recruiting members for the ARS, traveling the country to promote the rose. Most recently, Sam was Chairman, ARS Strategic Planning Committee and ARS Chaplain. Nancy continues to serve as ARS Chaplain, member of the ARS Development Committee and as an ARS Consulting Rosarian.
Sadly we lost Sam last year but his memory and contributions to ARS and the rose live on.
It is with great pleasure that we honor the outstanding service of Sam and Nancy Jones by presenting them with the 2017 Glenda Whitaker Annual Certificate of Achievement in Membership.
Published in the July/August 2017 edition of American Rose. Reprinted with permission from the American Rose Society.