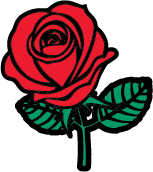 Some call it shovel pruning, meaning dig it up, throw it away, and replace it with a new rose that has been proven to thrive well in your area. There are many reasons a rose may need to be shovel pruned. Rose Rosette is the worst reason, but often a rose is no longer performing to your satisfaction or it has out grown its assigned space in your garden.

Whether you are removing a rose or you are expanding your garden, now is the time to select the replacement rose.
Each year members of the American Rose Society evaluate new rose introductions and submit a report to the ARS. The results are compiled and reported in the ARS Roses in Review. The results are also used to determine ratings of new roses in the ARS Handbook for Selecting Roses.
The Tenarky District 2019 Roses in Review Summary Report was compiled by Jeff Garrett, Tenarky District Roses in Review Chairman, from the reports submitted by Tenarky members.
Thanks, Jeff, for compiling this.
Click here for the Tenarky report.
---