The NRS Awards that are typically (in normal times) given at the annual Christmas Party were announced this year at the December 6, 2020, virtual meeting.
Bronze Honor Medals, the highest award that can be presented by a local rose society, were given to Bob Bowen, the Cheekwood Rose Study Garden manager, and Keith and Martha Garman, co-chairs of the NRS Grand Prix Rose Show.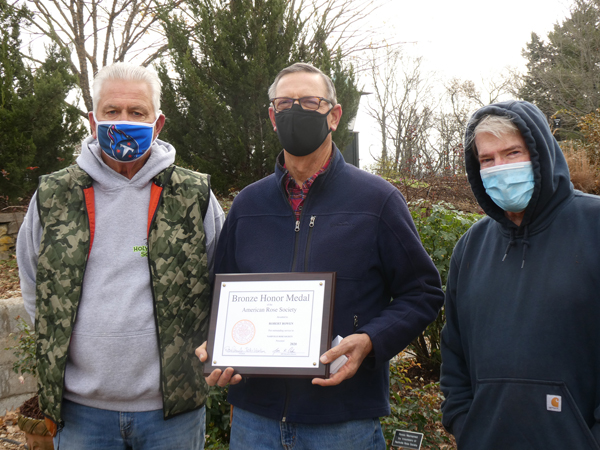 Bob Bowen has been a member of the American Rose Society and the Nashville Rose Society since 2006; he became a Consulting Rosarian in 2018 and is an accomplished rosarian. In addition to being the manager of the Rose Study Garden at Cheekwood, Bob serves on the show committee of the NRS Annual Rose Show and is responsible for the set-up and tear-down of the show rooms. Bob is a member of the NRS Executive Committee.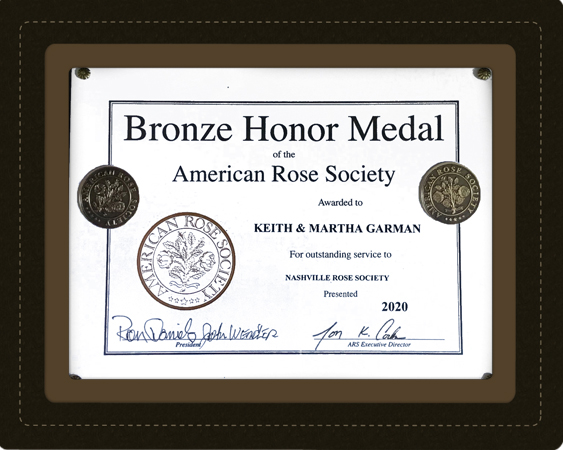 Keith and Martha Garman have been active members of the American Rose Society and the Nashville Rose Society for thirty years, having joined both societies in 1990. Keith and Martha are outstanding ambassadors for the ARS and have exhibited at every NRS Rose Show since they joined the society. For several years, Keith and Martha have co-chaired the NRS Grand Prix, a rose show that is held at a regular NRS meeting with the purpose of giving members a chance to learn about and practice exhibiting roses. Keith is a Consulting Rosarian and both are members of the NRS Executive Committee. Martha frequently contributes her rose photos to A Rose A Day campaign on the NRS Facebook page
The final 'award' given at the December virtual meeting went to John Wendler for having the best (ugliest) Christmas outfit. The photo of John speaks for itself!
Congratulations to all of this year's winners!
---