Seminar and Hands-On Workshop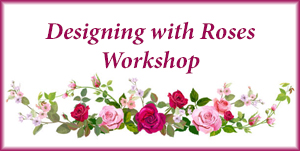 The Tenarky District of the American Rose Society is excited to host a seminar and hands-on workshop to learn how to make arrangements with roses. The workshop will be held in the Potter Room at Cheekwood Estate & Gardens on Saturday, August 6, from 8:30am till 3:30pm.
The workshop will be lead by Connie Baird from Tennessee, Sandy Dixon from Florida, and Joanne Maxheimer from Georgia.
The cost of the workshop is $25, which includes supplies and lunch. Please bring 2 containers as well as roses (if you have them), foliage and/or line material you might have available to share with the group.
Please complete the registration form and send with your $25 fee registration fee to:
Paula Williams
2650 Shumate Road
Ekron KY 40117-7831
---