If you have entered a rose show, you may have wondered, "what are the judges looking for?" when they give out the blue, red and yellow ribbons.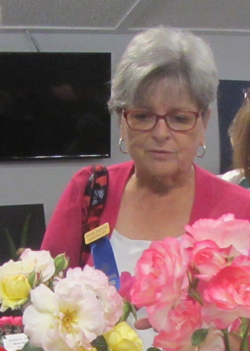 On Sunday, August 7, our speaker will be Linda Jansing, American Rose Society Horticultural Judge, who will take the mystery out of how roses are judged. This topic will be particularly helpful for those who plan to enter roses in the upcoming Nashville Rose Society Fall Grand Prix or the Tenarky District Rose Show.
Linda Jansing has been a member of the American Rose Society, Tenarky District, and the Louisville Rose Society since 1993. She is a Master Rosarian and has been the Horticulture Judge Chair and Photography Chair for the Tenarky District since 2016. She has been president and vice president of the Louisville Rose Society.
In the past 30 years, Linda has grown all types of roses but mainly hybrid teas. She has also grown miniatures, minifloras, shrubs, David Austins…and the list goes on.
Linda told us, "The first time I exhibited a hybrid tea, "Peace", I won Novice Queen and I was hooked!"
She started clerking at rose shows to learn more and a few years later, became a Horticulture Judge mainly to become a better exhibitor, but she has loved judging local, district and national rose shows for the past 18 years.
Bring a few roses if you have them on August 7th. We will talk about what judges are looking for when you exhibit your beautiful roses at the Tenarky District Show on September 17th.
The meeting will be held in the Potter Room at Cheekwood Estate & Gardens. Admission to Cheekwood is not required – let the gate attendant know that you are attending the NRS Meeting in the Potter Room.
---