Todd Breyer, Landscape Architect
Photo credit Gloria Ballard[/caption]Our guest speaker for the November, 2023, monthly meeting of the Nashville Rose Society is Todd Breyer. Todd will share with us different elements of gardens and outdoor entertaining, along with examples from historic Nashville estates.
Todd is an award-winning Nashville landscape architect who specializes in residential garden design. He has a Bachelor of Landscape Architecture from the University of Georgia. Todd's many projects and positions in Nashville include Cheekwood Botanic Garden (twenty years chairman Plant Collections Committee, Botanic Garden Committee, docent, fundraising, design projects), Nashville City Cemetery Association (past president, landscape and grounds coordinator, holiday party coordinator, Living History Tour, liaison to Metro Parks and Metro Historical Commission), Metro Beautification & Environment Commission (past county-wide Chair & District 24 Commissioner), Antiques and Garden Show (Board member, Gardens Chair), Nashville Lawn and Garden Show (event producer, garden chair, lecture coordinator, grants, event, PR & Media liaison), Friends of Richland Park Library (grounds committee chair & NPL Seed Exchange), Richland Park Farmers Market (garden designer, founder and organizational committee, litter abatement, plantings and grounds, liaison with Metro Parks) and West Nashville Community Festival.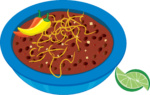 It is also that time of year for our annual Chili Cookoff. Everyone will vote for the best chili and the best cornbread – a good chili needs a good cornbread! Cook up a batch of your favorite recipe and bring it to the meeting. One thing is for sure, no one is going home hungry.
Our hostess this month is Janie Hagan. The meeting will be held in the Massey Auditorium of Botanic Hall / Visitor Services Building at Cheekwood Garden and Estate.
Directions: Enter Cheekwood and drive up to the parking attendants at the top of the hill. If they direct you to park outside the stone gates and it is difficult for you to walk far, tell them that the Rose Society has spaced reserved in Lot A. If those spaces are full, there is a golf cart shuttle that roams the large parking area. Once you park, bypass the ticket booth and come into the first building on your left with a large, covered entrance, which is Botanic Hall. The Cheekwood Campus Map shows the location of Botanic Hall. Enter that building and proceed to Massey Auditorium. You do not have to purchase a ticket.
---