by Danielle Hahn, Owner, Rose Story Farm, Carpinteria, CA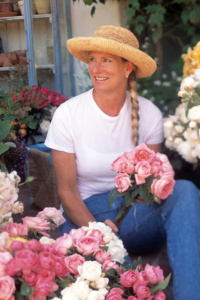 I have been designing rose gardens for the past 15 years, usually working with new clients who inevitably bring their individual ideas and desires with them! The obvious first question is how do we start the process?
Although the first step may vary in some special circumstances, my usual advice is to relax, have some fun, and answer a series of questions and considerations which allow the gardens to practically design themselves.

The process is broken down into four major areas, each of which includes a variety of steps. The four categories are practical considerations, artistic visions, plant selection and finally plant placement. As we work through these, there will be some obvious overlap and redundancy, but if you keep the general outline in mind, the final result will clearly emerge.
Do your research
Before you start, it is wise to visit public gardens, join organizations such as the ARS and your local rose society, pay attention to your neighbor's roses, visit nurseries, and talk to experts. Keep this outline and series of questions handy while you visit and chat. The information you will glean will provide you with both aesthetic preferences about garden types and practical knowledge about roses. Your goal should be to grow roses that you will have immediate success with in a garden that mirrors your particular style and desires.
Practical considerations
In the practical arena, the first consideration is to determine the purpose of the garden. Is it primarily for cutting, utilizing the roses as flowers for your home, in which case the garden could be tucked into any suitable plat with good growing characteristics, or will the garden be more an addition to the entire outdoor landscape, needing to complement and integrate into a much larger plan?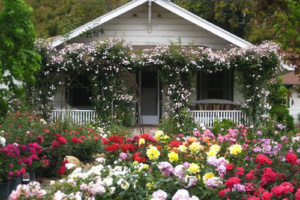 Will you simply gaze at the garden, its shape and color palate, from afar, or is it to be a more intimate affair, with a need for your direct contact with the plants, their fragrances, and the peaceful restful space they create? Is the garden to be shared with others, complementing the front of the house as an accent to your front yard, or will it be exclusively a private experience for you and your family?
Regardless of the general location, other practical items include the need for good soil, although poor soil can be amended or at times dug out entirely at considerable expense, good sun exposure with at least 6 hours daily with more preferred, adequate drainage and gentle breezes as roses grow better with air movement around and through their leaves.
It is always better to avoid areas of extreme climate – too much heat or sun will bake your roses, too much wind can scatter your blooms and too much exposure to hungry deer or rabbits can reduce them to stumps.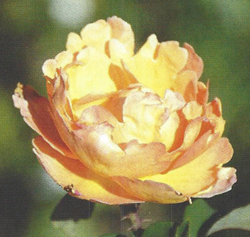 As part of this initial planning, garden size, which is tied directly to planting expenses and annual costs, needs to be discussed. Current prices for roses already in pots is close to $30 in most parts of the country and many bare root plants are at least $15. Soil amendments, landscape, irrigation system setup and a variety of tools including shovels, clippers, and sprayers can push the overall cost to between $40 to $60 per plant. Deciding your initial budget will often be the most important factor in deciding overall garden size.
Your garden can be as simple as having a few rose plants planted in a group or separately within a garden bed with the use of companion plants, to as complex as several hundred plants in a structured garden. It's always a good idea to leave room for expansion as I've yet to meet a rose grower who isn't looking for their next rose.
If you have a small rose garden, a good rule of thumb is to use fewer 'softer' colors. The garden will appear larger than if you have chosen strong bold colors. Some of the most beautiful small rose gardens may have only one or two varieties. This is particularly true of cutting gardens. Think of your cutting garden as one big bouquet. Can you use all of the colors you have chosen together or within two or three bouquets? Will they complement the rooms in your home?
Artistic vision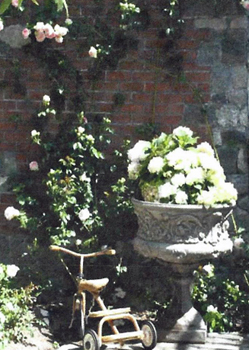 Your artistic vision for your garden is our next major consideration. Is the overall appearance to be classical, sometimes thought of as formal, with a geometric layout, often with paths and borders, or would you prefer a more informal style usually with curved or undulating borders, and often with a greater mixture of plant material. This question is often strongly influenced by the personality of the owner, and the overall appearance of the house, adjacent landscape or adjacent hardscape such as patios, or swimming pools.
Consider the addition of architectural components which can dramatically enhance the garden, including arches, often at the entrance, wall or fence trellises at the rear, posts or similar structures for climbers, benches for viewing or resting, and design features such as sundials or birdbaths, which may stand alone within the roses or may be integrated into the garden paths.
Plant selection
Plant selection initially seems the most straightforward aspect of planning. The most obvious decisions have to do with color preferences. What are your favorite colors? This is a simple question until you consider the importance of the surrounding colors of other plants, landscape and your home.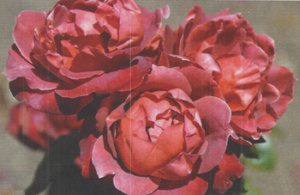 If you are planting roses as a part of landscape, your choice of roses is expansive both within color and type. If you are planting for a cutting garden, you might want to limit your selections to colors and types that work with your home's interior room colors. i.e. if you have a modern home with neutral colors, you might choose hybrid tea roses (a more modern form) in 'off' colors, such as the blends with sepia tones.
White roses work with any interiors!! If you have a period home or interior, you might consider some of the shrub roses or Romanticas, while matching exact colors to your interior. As a rule of thumb, the bright, clear, pure colors are the most difficult to work with in interior design. Be particularly careful when choosing within the pink and yellow families. Pinks with a dash of orange are easier to work with than those with purple tones. Dark yellow or gold is a better choice than 'lemon' yellow.
Do not go by colors in catalogs or books as these can be very misleading and can vary hugely in different garden zones. Visit your local nursery when the roses are in bloom and choose them in person. Take bits of fabric or paint chips along to match colors. Take your time, be patient, and hold out for what you want. Your garden will be with you for years to come. If you do not find the right rose, you can leave space for what you would like to plant until you find the perfect candidate. Make a plan and stick to it!
Given the tremendous number of most available colors, other aspects of the rose, including their fragrance, disease resistance, and ease of use as a cut flower, should be contemplated. Do you prefer the sophistication of the hybrid tea, the romantic blowsy gentleness of the garden scrub, or the riot of blooms from the floribunda. How does the bloom age gracefully as it progresses from bud to open stage to its ultimate disarray? And what of the size and shape of the plants themselves.
Here you must be very cautious once again while reading the descriptions in catalogs. Much better to see the individual varieties growing in your area to accurately determine their ultimate size and shape.
And the foliage – prone to yellowing and leaf drop or perhaps a vibrant persistent green with a shinning waxy sheen. The advice of local gardeners and rose lovers is particularly helpful in these areas as all rose varieties will be altered, sometimes dramatically by the overall weather and general climate conditions of your location. At this point it is wise to consider companion plants, again often influenced by the experiences of your local gardening community.
Adding perennial bulbs to your roses will produce a dramatic and delightful spring eruption weeks before your first rose blooms. Delphiniums, day lilies, lavender and clematis can be mixed with the roses to complement and contrast.
Plant placement
The placement of the individual roses is our next and last planning step. This is obviously influenced by the artistic design but general principles include grouping the roses by color, usually with a minimum of 3 to 5 of the same variety, arranging the plants in a rough order depending upon their ultimate height, and deciding the actual spacing between the plants. The placement of the rose is alos a function of their size, growth characteristics, and the need to always have access to the plant on at least one side to properly handle routine maintenance such as fertilizer application, deadheading and pruning. Do not be afraid to plant closely in one direction while leaving space in another. Some of the most beautiful rose gardens have roses massed together.
Rose garden design is always a collaborative process which should be stimulating and enjoyable. There are inevitable difficulties and compromises, but in the end you have created a beautiful, evolving space that is endlessly delightful on so many levels.
And finally, please keep in mind, we all make mistakes (or create learning opportunities as I like to tell our children). Do not be afraid to 'remove' a rose that is not performing well. You can try it in a different location (more sun or heat), give it to a neighbor, trade it at a rose society meeting, or toss it.
As you will quickly find out, the initial cost of the rose is minimal when considering the care and materials that go into keeping it healthy. There is no reason to keep growing a rose that is not performing or that is the wrong color or shape for your garden. This will open up an opportunity to choose yet another beauty!
With a little homework you can have it all, your favorite roses in a fantastic setting either in your landscape or as cut flowers in your home.
Reprinted with permission from Danielle Hahn. Originally published in the 2012 American Rose Annual, a publication of the American Rose Society. For more information on Rose Story Farm, visit their website.
---