by Lori Emery, Tenarky District Director and NRS Member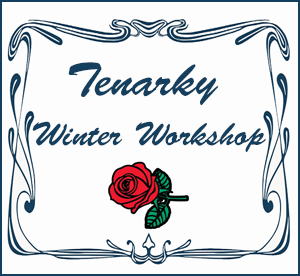 Be sure to register for the Tenarky Winter Workshop that will be held at Belmont University, 1515 Wedgewood Ave, Nashville, TN 37212, February 18-20, 2022. Check-in will begin on February 18th from 4:00-6:00 p.m. in the Ayers Academic Center, Rooms C & D, where we have our monthly meetings. We will then have a delicious "Little Italy Buffet." Hybridizer Dave Bang will join us virtually to discuss his hybridizing process and his roses.

Saturday will be a busy day, starting with Carol Shockley who will show new roses for 2022. Connie Hilker, from Hartwood Roses, will discuss antique roses. Pamela Powell, Chair of Photography for ARS will be with us to judge the Photography Contest and speak with us on taking photos of our roses with our IPhone camera. You can find the Rose Photography Schedule here.
Gaye Hammond will join us virtually to discuss mistakes we may have made with our roses and how to fix them. Dr. Mark Windham will update us on Rose Rosette Disease. We will have a short Tenarky Business meeting to discuss the Tenarky Fall Rose Show and District Convention. That evening there will be an enjoyable banquet, with Dr. Windham as our guest speaker.
Joanna Deck is bringing several of her roses for our silent auction. We are scheduled to have K & M roses as our rose vendor. Jeff Harvey, owner of Dirt Dawg will also be on hand with numerous tools and live plants. Barbara Taube will bring her miniature containers for purchase.
Sunday morning will be our Consulting Rosarian school. Nancy Jones will do a morning devotion before the school begins. Mary Ann Hext will review the consulting rosarian mission and program. Our own Ron Daniels, Co-President of NRS will review soil and water principles. Gaye Hammond will again join us virtually to discuss fertilizers. Dr. Windham will wind up the morning with pesticides, chemical safety, insects and diseases. Candidates who wish to become Consulting Rosarians are then able to take an open book test. (Candidates must have been pre-approved application). Current Consulting rosarians can audit the course to refresh and increase their knowledge, and earn required continuing education credits.
For the full weekend schedule, click here.
Current Covid-19 Restrictions will be in place. Masks are required on campus.
We have a convention rate at the Holiday Inn Express & Suites, 5566 Franklin Pike Circle,Brentwood, Tennessee 37027. Book by January 18, 2022 for convention rate of $110! Click here for the reservation link.
PLEASE make plans to attend the Winter Workshop, the dinner and banquet this year. We have some great speakers lined up for the workshop! The food is going to be fabulous! Your attendance helps to pay for the traveling expenses for speakers who are coming from outside Tenarky.
We have not had a Winter Workshop since 2018, so let's all plan to attend this year!
For more information, contact District Director Lori Emery at 615-948-7672 or email laemery20@hotmail.com.
Parking: The Ayers Academic Center is located at the corner of Wedgewood and 15th avenues on the northern front of campus. The entrance to the parking garages for both buildings is the same as we used last year. There are two elevator banks in the garage underneath the Ayers Academic Center – the South and North elevators. Members should park by, then use, the North elevators to the 4th floor. These open up directly across from our meeting room – which is Ayers C & D. It is not easy to find the meeting room from the South elevators!
---