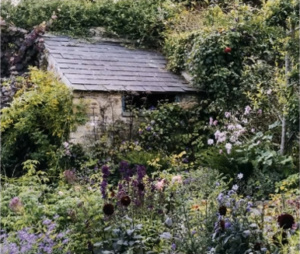 Teresa Byington took us on a tour of her garden, Bloom Thyme Cottage Garden at the November 7, 2021, monthly meeting of the Nashville Rose Society. The Bloom Thyme Cottage Garden, which Teresa has tended for 30+ years, is a large cottage garden that weaves together her love of roses – from the oldest to the most modern shrubs and their garden companions. Roses alongside annuals, herbs, shrubs, trees, perennials and a few veggies fill this garden.
Click here to read the story of Teresa's garden as told to Garden Gate Magazine, February 2022 issue.
Teresa was kind enough to let us record her GoToMeeting presentation that is filled with cottage garden history, gardening advice and plant recommendations. You can revisit Teresa's presentation by clicking here.
---