by Teresa Byington and Dr. Mark Windham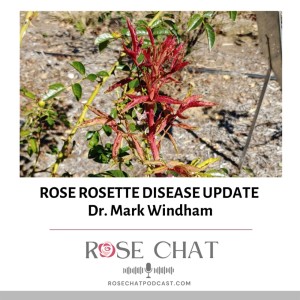 Resistance to Rose Rosette Disease has been identified and is a GAME CHANGER!
Listen to the full RoseChat Podcast with Teresa Byington and Dr. Mark Windham. Dr. Windham brings us up to date on where we are today with the rose rosette research, what we've learned, and the direction the research is going. He also discusses the extreme need for research dollars to help fight this deadly disease.

RRD is a virus disease of roses that is lethal and affects all roses. Dr. Windham and his team of researchers has determined the chromosomes where the resistance is located. This will change the playing field for breeding new roses. Now we need to get RRD resistance into roses that have the horticultural traits that rosarians demand, including resistance to blackspot. Work is also being done to identify how and when to use a miticide against the mite that carries the disease.
RRD Research Donations
Dr. Windham also discusses the extreme need for research dollars to help fight this deadly disease. Please consider a donation of any amount to RRD research …
Paul Zimmerman's Rose Gardening Facebook Page:
A great place to find other rose lovers and a great place to get questions answered!
Open Page here
---