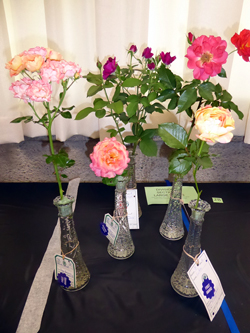 The 2022 Fall Grand Prix Rose Show will be held during the Nashville Rose Society regularly scheduled monthly meeting on Sunday, September 11, 2022, in the Potter Room at Cheekwood Gardens & Estate.
The purpose of the Grand Prix is to give members a chance to learn about and practice exhibiting roses. A grooming room will be open at 1pm. Experienced exhibitors will be there to help anyone needing help grooming their roses. All you need to do is know the names of the roses you bring.
Click here to open the schedule for the Grand Prix.
The 2022 Tenarky District Rose Show schedule will be discussed and there will be members who can help you fill out the tags that go on your entries.
Please note: The NRS Grand Prix rose shows are not sanctioned by the American Rose Society .
For more information on how roses are judged, visit the American Rose Society website, rose.org, and study the "Guidelines and Rules for Judging Roses".
Directions to the Potter Room: Enter Cheekwood and drive up to the parking attendants at the top of the hill. If they direct you to park outside the stone gates and it is difficult for you to walk far, tell them that the Rose Society has spaces reserved in Lot A. If those spaces are foll, there is a golf cart shuttle that will bring you to Botanic Hall. Once you park, bypass the ticket booth and come to the first building on your left which is Botanic Hall (you will notice the building has a large covered entrance). Enter the building and turn left down the hall to the Potter Room.
---