by Gene Meyer, NRS Consulting Rosarian
For the past two Nashville Rose Shows that's been my refrain. Two years ago I had one nice Touch of Class. That was the best rose I had, I thought, for a chance to win. The judges thought otherwise. I had some mini's I entered but no luck there. Right before I left home for the show I saw an open Mr. Lincoln so I cut it for the open bloom category. There must have been 30 roses entered in that class. I won! Now I believe that was pure unadulterated luck.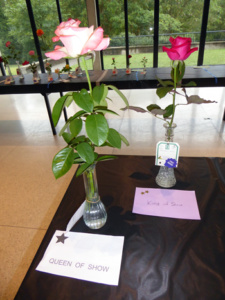 This past year I didn't have nuthin' either. I had a Hot Princess and Mr. Lincoln all week with sepals down, but they refused to open. You guessed it, Mr. Lincoln opened on Sunday after the show. I had a Touch of Class but the foliage was not good. I had a few sprays I thought held some promise. I decided to go for it and entered a three spray challenge. The judge said my Kristen wasn't open enough! Anyone who grows Kristen knows it doesn't ever open! I had three roses to enter into the Most Fragrant category which was to be in exhibition form also. Mine weren't perfect so no luck again. I entered two mini English boxes and didn't even get a ribbon. Lastly I had a bug eaten Moonstone. I took off the outer crinkly petals all Moonstones have and the two bug eaten outer leaves. That left a rose that was shaped like a tulip instead of the preferred triangle so I knew that wasn't going to work but it was the best I had. I made the Royal Court with the Moonstone tulip. Go figure.
At our last in-house rose show I didn't think I had the best rose because there was a brown spot on a petal I couldn't remove because it would have ruined the symmetry. So my only hope was to set the rose on the table and turn the vase where you couldn't see the flaw from the front. And of course I could hope the other entries might have minor flaws also. I don't know which or for what reason I won. One thing I know for sure after showing roses for years, the judges are crazy and they will do most anything for any reason. So don't worry about the judging because you can't do anything about it.
Suffice it to say that I can't say "I ain't got nuthin'" anymore. Also your best is good enough. And what you think is your best the judges probably won't agree. And you will win more than you think possible.
We need your participation in the Rose Show. A lot of people put in a lot of work to pull it off. Honor that work by entering your best. Your best is better than you think!