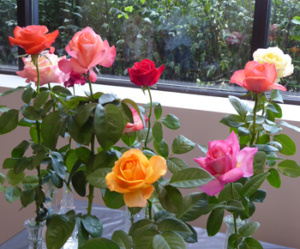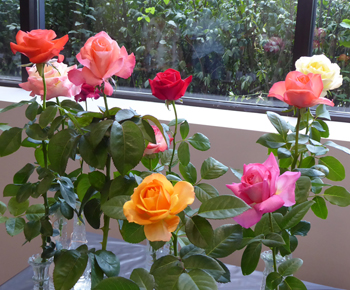 The 2022 Spring Grand Prix Rose Show will be held during the Nashville Rose Society regularly scheduled monthly meeting on Sunday, May 1, 2022, in the Potter Room at Cheekwood. The Grand Prix is a rose show that is held at a NRS meeting and its purpose is to give members a chance to learn about and practice exhibiting roses.
The show will have two sections – Advanced Exhibitors and Novice Exhibitors. A Novice Exhibitor is a person who has never won a Blue Ribbon in an ARS sanctioned Rose Show with the exception of the Novice category. Having the two sections will give new exhibitors experience showing their roses with fairer competition.
Please note: The NRS Grand Prix rose shows are not sanctioned by the ARS.
A grooming room will be set up at 1:00pm. Consulting Rosarians will be available to teach how to groom roses to show.
While the judges are doing the judging, we will discuss spraying and other activities members should be doing in their gardens in May.
After the judging is over, the judges will explain to our members why they judged the roses the way they did – why the winning roses won and why some of the other roses didn't.
Click here for the Grand Prix Show Schedule.
The mask mandate has been lifted at Cheekwood.
---