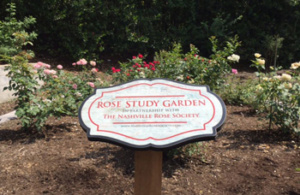 The Rose Study Garden at Cheekwood Estate & Gardens in Nashville was opened in 2016 as a partnership between Cheekwood and the Nashville Rose Society and is dedicated exclusively to America's official flower – the rose. For the full story of how the Garden came about, click here.

Built and maintained by NRS, the Rose Study Garden contains over 70 roses of all types and colors, including Earth Kind (no spray) roses, hybrid teas, grandifloras, miniatures, climbers, shrubs and Old Garden roses. Spectacular blooms can be seen from April all the way through October.
With rose education being one of NRS's core priorities, the Rose Study Garden serves as a teaching tool for NRS members to help Cheekwood's patrons, new members of the Rose Society, as well as the general public learn how to grow beautiful roses in Middle Tennessee.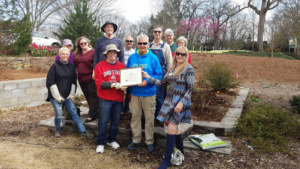 Throughout the year, NRS holds various "work days" in the Rose Study Garden not only to maintain the Garden to Cheekwood's exact standards (Cheekwood has been named a Top 10 Botanical Garden in the United States!) but to provide hands-on experiences for anyone wishing to learn about the different aspects of caring for roses. In March, 2019, NRS was presented with the Cheekwood Century Star Award for providing more than 100 hours of volunteer service during 2018.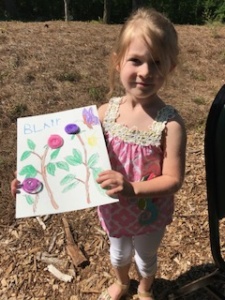 In addition, NRS conducts formal workshops for the general public, held in the Rose Study Garden, to teach the basics of growing beautiful roses. The Rose Study Garden is also used to introduce the world of roses to preschoolers! NRS participates in a program at Cheekwood called "Tuesdays for Tots" in which NRS members guide preschoolers – and their parents – through a variety of fun and involving activities associated with roses.
Without question, the Rose Study Garden at Cheekwood has been an unqualified success for both Cheekwood and the Nashville Rose Society.
For more information on visiting Cheekwood Estate & Gardens, visit cheekwood.org.
Published 2019/06/18
---