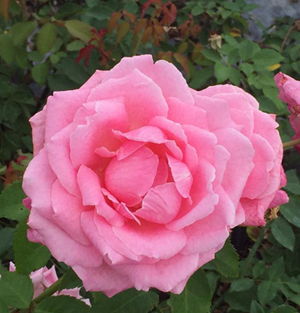 Here in Nashville, the summer heat is gone (we hope) and the roses are loving it! This is the time of year that many gardens have one of their best flushes of rose blooms.
Three of our members, Ron Daniels, Gene Meyer, and Marty Reich are opening their gardens from 10am – 5pm on Saturday, October 8. In addition, you won't want to miss the Rose Garden at Belmont University and the Lynn Anderson Rose Garden at Woodlawn Cemetery.
Ron Daniels, Nashville Rose Society Master Rosarian and Master Gardener, will host his Gadwall Abbey Open Garden at 1000 Gadwall Circle, Hendersonville. Ron has over 170 award winning roses of all types and many companion plants in his Gadwall Abbey Garden.
Gene Meyer is known for the Old Garden Roses (OGRs) that are in his garden along with his hybrid teas and miniature roses. Gene is the Tenarky District Committee Chair for OGRs. Gene's garden is located at 5111 Country Club Dr. in Brentwood.
Marty Reich is one of the Nashville Rose Society Master Rosarians, and most recently her rose "Mango Blush" won Queen of Minifloras at the 2022 Tenarky District Rose Show last month. Marty also grows winning hybrid teas and miniature roses. Her garden is at 5020 Dovecote Drive, Nashville.
The Belmont University Rose Garden may be seen anytime during the day on Saturday or Sunday. You can park in the Belmont Mansion Visitor Parking – the garden is to your right as you walk up to the mansion. On Sunday, October 9, you can visit the garden before the NRS Monthly Meeting which will be held at Belmont University. Our speaker will be Myers Brow, Executive Director of Belmont Mansion. His presentation will explore the gardens and landscaped environment surrounding Adelicia Acklen's summer home, the Belmont Mansion. Guests are welcome to the meeting. You can walk to the garden from the meeting parking in the Ayers Garage at 1515 Wedgewood Avenue.
The Lynn Anderson Rose Garden at the Woodlawn-Roesch-Patton Funeral Home & Memorial Park may be seen on Saturday afternoon or all day Sunday. The Lynn Anderson Rose Garden honors country music star Lynn Anderson at her final resting place. The Rose Garden features 114 "Lynn Anderson" hybrid tea roses hybridized in honor of her and her 1970 classic hit song "(I Never Promised You a) Rose Garden". The garden is to the right of the main building of the funeral home at 660 Thompson Lane, Nashville.
Get out and enjoy the (predicted) sunshine and pleasant temperatures. The roses will be beautiful!
---