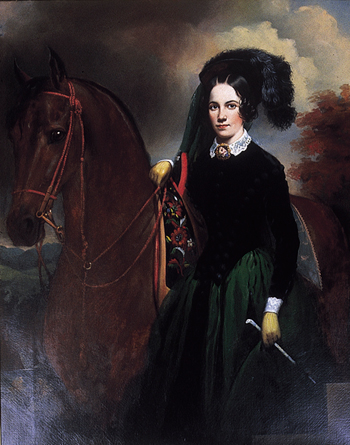 The October 9 meeting of the Nashville Rose Society will not be at Belmont as planned. The meeting will be held at Cheekwood in the Frist Learning Center in the meeting room on the courtyard level (see details below).
History buffs as well as rosarians will not want to miss the October 9,2022, meeting of the Nashville Rose Society at Belmont University. Our speaker will be Myers Brow, Executive Director of Belmont Mansion. His presentation will explore the gardens and landscaped environment surrounding Adelicia Acklen's summer home, Belmont Mansion.
The home featured gardens, statuary, aviary and zoo and included a steam engine powered water tower to provide irrigation. This unrivaled wonder impressed Nashvillians and outsiders alike but was heavily damaged by the Union troops who constructed earthworks on the property during the American Civil War.
Myers is a Fellow and a current officer of the Company of Military Historians and is on the advisory boards for the Tennessee Civil War National Heritage Area and the Tennessee Civil War Preservation Association. Prior to joining Belmont, he served as Director of Archival Collection Services and Chief Historian at the Tennessee State Library and Archives. He previously worked as a curator with the Tennessee State Museum, the Alabama Historical Commission, and at the Atlanta History Center. He also served as the chairman of the Tennessee War of 1812 Bicentennial Commission.
He is the author of two books: Images of Tennessee's Union Cavalrymen (published in December 2008) and Images of Tennessee Confederates (April 2011). He served as editor of the Best of the Tennessee Historical Quarterly, Volume 5, Nathan Bedford Forrest and the Confederate Cavalry in West Tennessee (published April 2013).
The Frist Learning Center "New Meeting Room" is on the 1st floor. It is smaller than the Potter Room so it will be a bit tight (they say it can accommodate 30 people theater style). Enter Cheekwood through the back gate at 111 Cheek Road and park either in Lot C, which is located next to the Frist, or Lot D, which is a bit further away but still within walking distance of the Frist. The main entrance to Cheekwood will be very crowded with visitors and quite a hike from the Frist Learning Center. Once you enter the building, there is an elevator to the left or stairs straight ahead. Once you come up the stairs or elevator, take a left to get to the meeting room. It is not marked, but on the map in front of the elevator it is identified as "Meeting Room". The Cheekwood Campus Map shows the parking lots and the location of the Frist Learning Center.
---