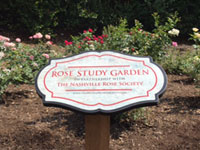 Talk of the Town, on NewsChannel5 Network, filmed an episode at the Cheekwood Rose Study Garden.  The show was aired on Friday, September 21, 2018, featuring the Nashville Rose Show being held at Belmont College the weekend of September 22-23.
Tuwanda Coleman, of NewsChannel5 Network, interviewed Ron Daniels, President of NRS, John Hannah, NRS Rose Study Garden Manager, and Mary Weber, Horticulture Grounds Manager at Cheekwood.
See the video of the Talk of the Town episode here.